JACOBO ORTEGA
Licensed Birdwatching and Wildlife-observation tour guide.
Republic of Panama.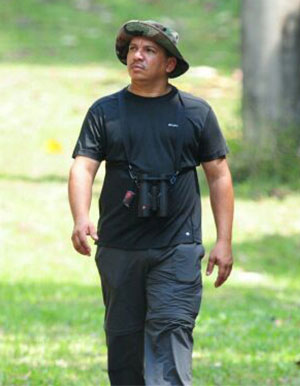 Jacobo Ortega was born in the province of Cocle in central Panama. He was raised in the town of El Barrigon in an area that has since been designated a national park because of its scenery and high diversity of frogs, plants, and birds.
During childhood he wandered the forests and, like many Panamanian boys, became very adept with a slingshot. At age 15, he dispensed with his slingshot and turned to careful observation of birds. About this time he met Dodge Engleman, then president of Panama Audubon Society, who encouraged him to keep studying and learning about birds.
In 1992, Jacobo began working for the Panama Canal Alternative project, whose purpose was to assess the diversity and quality of the forest in the Panama Canal Zone before its turnover to the Panamanian Government in 1999.
Then in 1993 Jacobo began working for the Smithsonian Tropical Research Institute in a bird-banding project that was aimed at unraveling the life cycle of bird parasites. He spent 7 years banding birds on Barro Colorado Island in the canal area. During that period he learned how to identify nearly 500 bird species by their calls and about 200 species by their nests. Following that experience, Jacobo began guiding birders in Panama.
He has since led numerous field trips and birding tours for Panama Audubon Society, Panama Canopy tower, other commercial tour operators, and private parties. His ready smile, outgoing personality, and superb birding skills contribute greatly to the success of every tour he leads.
With Birding in Panama
you can get to know the birds of Panama:
In an ecologically sustainable manner without negative effects to bird habitat. Our groups are never larger than 8 people, we follow the recommendations of the World Tourism Organization, and we select hotels, restaurants, and services that have low environmental impact and high respect for natural resources.
Through Panamanians. Our guides are local people who will introduce you to other local people, their stories, and their way of life.
At a modest price. We avoid costs due to intermediaries, and those savings are passed on to you. You may then, if you wish, donate these savings to Panamanian conservation programs and return home with the satisfaction that you have not only visited a new, fascinating place, but you have helped the people and the natural resources of Panama. Don't think it anymore; Come and Join us to have an unbelievable adventure birding in Panama.
Marieta Hernández
Venezuela Audubon Society
You are a guide who combines profound knowledge of birds, exceptional ability to find them, and humane treatment and empathy toward the birds. Thanks, Jacobo, and we hope to return soon to Panama.
Mary Lou Goodwin
Birding in Venezuela
I have birded in Africa, Australia, New Zealand, Ecuador and naturally, in my Venezuela, but I have never had a guide as you--a guide completely determined to find every bird in the area and no matter how long or how much work.
We birded with Jacob for 7 full days and had an outstanding experience. We are very experienced birders but Jacobo is light-years better. We highly recommend his services.
Ed and Wanda Armstrong
USA
We had a wonderful experience. You are a great guide. We are amazed by your ability to find those wonderful birds in the dark forest. We think you have a very special gift and an encyclopedic knowledge of the birds of Panama.
We offer guide service to the most spectacular birding spots. Together with great optics and good transportation, we made off your birding vacation an unforgattable experience.
Imagine Panama is the size of Minnesota, and it hosts more bird species than do the United States and Canada combined For many years, the Panama Canal, Noriega, and Roberto "Hands of Stone" Duran were the international icons associated with the word "Panama." And these icons protected one of the natural wonders of the world.
For the Cueva indians, the word "Panama" means "abundance" of fish. But our country also offer a welth of other nature tresaures. With 975 species Panama needs no more presentatin.
Panama: land of abundance Nobody Here But the Birds- New York Times , April 2002 Articule on birding in the Panama Canal Rainforest: "This unlikely setting (Achiote Road) is the prime birding site in Panama, where more than 340 species are counted during the annual 24-hour Atlantic Christmas Bird Count.
Ken got out of the bus saying he wanted to see the spot-crowned barbet, which would be a first for him, and within minutes one obediently flew into a tree across the road. There were mealy parrots, orange-chinned parakeets, a flock of more than 100 swallowtail kites, two white hawks fighting overhead, a whole family of howler monkeys — a constantly changing show."
SOME OF THE OUTSTANDING BIRDING SIGHTS IN PANAMA
Official Name
Republica de Panamá
Caribbean Coast
800.14 mi / 1287.7 km
Vascular Plants Over
10.000
% of forested lands
46% of the country
Land surface
29,157.28 mi2 / 75,517.0 km2
Population
3.4 million to 2007
Indigenous population
10% in 7 different tribes
Pacific Coast
1,056.70 mi / 1,700.6 km
% for conservation
26% of the country
Contact
Plan your trip with us!
Phone:
507.667.644.64
Email:
jacoboortega2013@gmail.com
jacobo@birdinginpanama.com
info@birdinginpanama.com